I'd fancied exploring La Gomera for a few years so decided to take the plunge and go at short notice with no real plan! My first stop to get my bearings was the capital San Sebastián. It's where the ferry drops you off from Tenerife. I chose accommodation close to the centre on one of the main roads running away from the square. I then planned to make my way around the island. I'd hoped to get a hire car but none of the main companies had any available so the bus was my only option.
I soon found buses are limited on the island. Four main lines take you to the main resorts and stop at mountain hamlets / villages along route. The time table states just a start point so there's no easy way to plan anything other than setting off. Also they are infrequent – with just two or three per day and all depart at the same time so it's not easily possible to head back to the main terminus in San Sebastián and head off somewhere else on the same day.
On my dates there was limited accommodation too so that created a further headache. That said I managed to get around the island and here's the journey from 11-18 Jan 2023:
Day 1: San Sebastian to Playa de la Guancha
Day 2: Las Hayas, GR131 to Las Creces and Arure
Day 3: Las Hayas to Alto de Garajonay
Day 4: Las Hayas to Vallehermoso
Day 5: Vallehermoso to Santa Clara
Day 6: Playa Santiago
Day 7: Playa Santiago – the three beaches
Day 8: San Sebastian to Playa de Avalo
DAY 1: San Sebastian to Playa de la Guancha
My first day was spent in San Sebastián. The capital has a square with several restaurants and a good vibe. It's quite touristy and mainly German with a few English among the mix.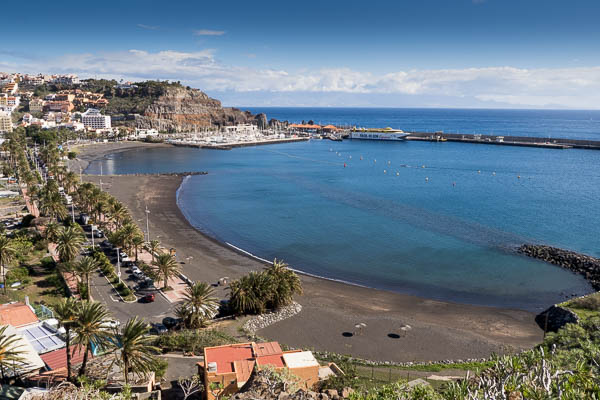 I took the left path clockwise around the coast on the hill tops . I soon learned there are few true coastal paths and every route involves a steep climb up from the towns/villages to the walks . The whole island is mountainous with dramatic ravines (barrancas) dropping down to the sea. Almost everywhere you go involves a really steep ascent / descent, so you need good knees.
The walk around the south was arid ground but surprising amount of vegetation . I soon found this island is very green and also not just lava like you see in the other Canary Islands – I'd go as far as saying it's quite lush.
My route took me to Playa de la Guancha a large pebbled beach with few visitors (hardly surprising as the only way to get there is a fairly strenuous hike) Two other couples were on the beach – a French pair I passed on route and two who decided to try swimming (fairy tricky I'd say!)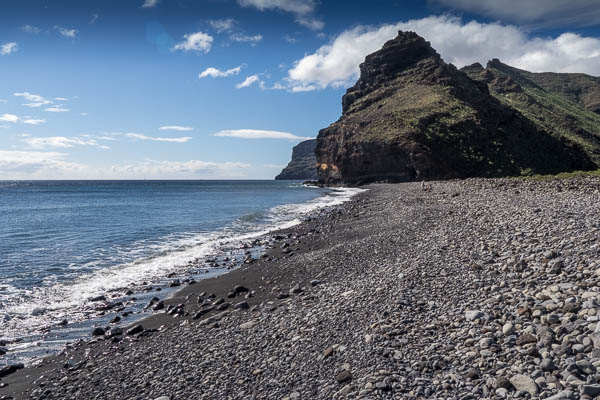 I then realised that the options were to carry on for a really long walk (which I wasn't prepared for) of head back on the same path (something I don't really like doing).
After Id backtracked about half the way I saw an alternative path up over the left side of Cristo Sagrado Corazón a statue of christ on a huge pole which can be seen on the hill top from San Sebastian. I intended to join the road to visit the statue but it was temporarily closed so I headed over the other side of the hill joined the main road and found an old disused path down the side of the hill back to San Sebastian.
On my return I stopped for lunch at a bar and had a hamburguesa especial – hamburger with cheese egg, ham, pickle and mustard sauce.
And this was also time for my first cerveca grande (large beer) – a refreshing Dorado. I then wandered around the coast anti-clockwise. Starting by climbing up the paths between the roads to the first viewpoint Mirador de la Hila and then further up over the top to the only lighthouses on the island – Faro de San Cristóbal. I retraced my steps back to the centre.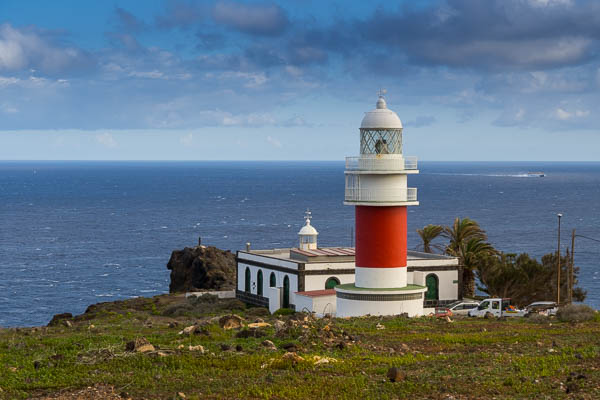 In the evening I tried one of the local special's carne de cabra (goat meat). It was basically a plate full of bones with a bit of meat hanging off here and there – not that exciting but the bread they offered with it and mojo (red and green) was good.
DAY 2: Las Hayas, GR131 to Las Creces and Arure
Next morning I caught the 10:30am Linea 1 bus from the station of San Sebastian to the mountain village of Las Hayas. After an hour or so of very windy roads the bus stopped in a wooded area and someone asked if it was Las Hayas. The driver said yes and a few people quickly clambered off the bus. The bus stop appeared to be in the middle of nowhere but was actually just outside the hamlet of Las Hayas. I checked Google maps and found the direction to walk.
I was early arriving at my reservation , but the receptionist at Restaurante Casa Efigenia La Montaña let me check in to my small house at Jardín las Hayas Efigenia, 0.3km from the restaurant . Online reviews complain about the distance and the rude staff. Well the staff weren't overly friendly, but this didn't bother me. I'd read about owner Doña Efigenia, an elderly lady who specialised in vegetarian cookery coming out to great guests, but I only heard her in the kitchen shouting out to the Chinese staff.
As it was about 1pm so I decided to get a walk in and chose a circular around the area – walking up to Las Creces in the Parque Nacional de Garajonay and then around anti clockwise to the village of Arure and back to Las Hayas. This walk included a stretch of the GR131 and through the area of Las Creces. The Laurisilva (Laurel woodland) is covered with moss and has an eerie fairytale feel.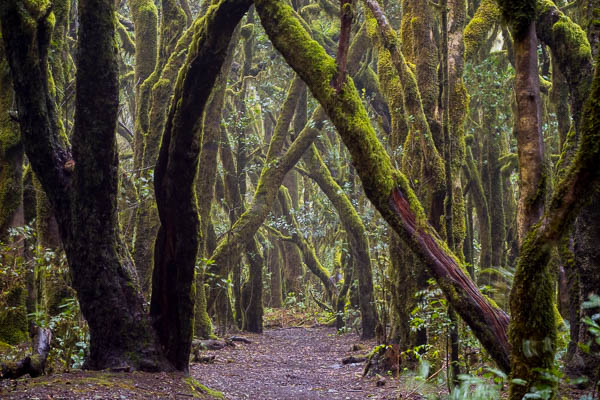 Once I reached the GM-2 road I crossed to the other side and joined the path to footpath to Mirador Risquillos de Corgo. From here on a clear day you can see down the Valley to Vallehermosa and the sea beyond. You can often see Mount Teide on Tenerife too. But today was misty and all I could see was a white sheet.
My next stage was dripping down through the park to the village of Arure. I'd read in a guide book that Restaurante Casa Conchita was well worth a stop so I planned to have dinner. It also started raining so a perfect opportunity. The woman serving was very helpful and suggested Goat meat, but as I'd had that the day before I settled for Atun Enceballado (Tuna in a spicy sauce) with Canary potatoes. The accompanying Pan con Mojo (bread and Mojo) turned out to be the best on the island. I finished off with a dulce (sugar pastry) and Barraquito coffee.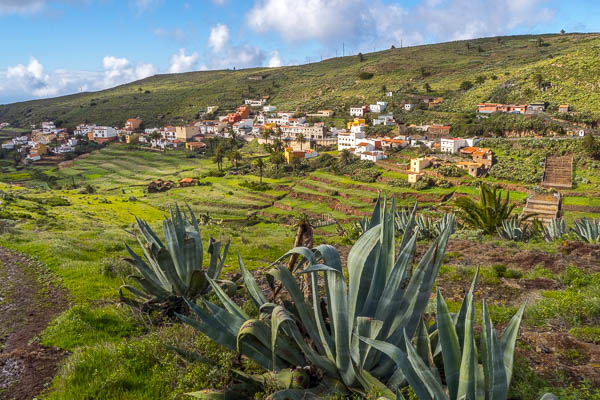 I hung around in Casa Conchita for as long as I could hoping to outlive the rain, but I had to endure it for the rest of my walk back to Las Hayas. But rain brings atmosphere and as a result the views down to Vallehermosa valley were dramatic when the sun finally appeared behind clouds.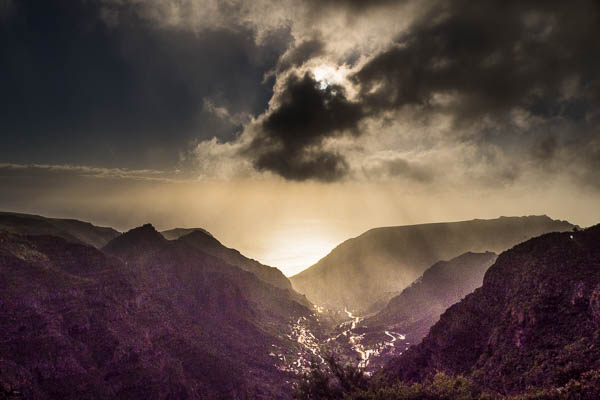 DAY 3: Las Hayas to Alto de Garajonay
I had no idea what to expect for breakfast at Restaurante Casa Efigenia La Montaña and it's a good job as it was a quite average offering of eggs, either boiled, scrambled or tortilla (omelette) with fresh fruit (banana) juice, and a cafe con leche (coffee with milk). A requested picnic was a small banana, a thick cheese and omelette baguette, a caramel biscuit (like you normal get on a plate with a coffee), a small bottle of water and a carton of bland fruit juice.
I decided to walk through the Garajonay and hike up to the 1487m peak of Alto de Garajonay the highest point on the island. It was still misty when I set off on the trail towards El Cercado village. I encountered an excellent part of the walk here, taking a steep descent to the Barranco Del Agua and back up the other side into El Cercado.
On the way down there were great views of the Vallehermosa Valley.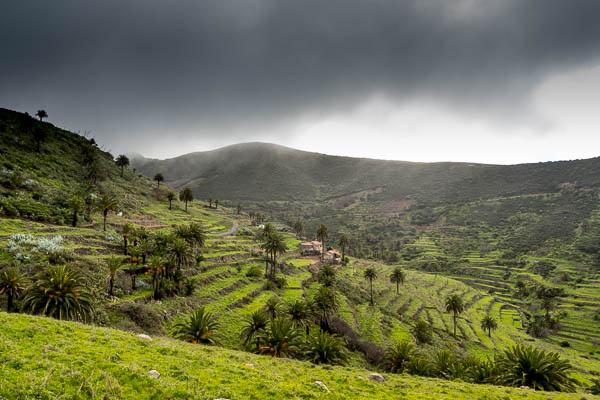 I then headed across agricultural land with ploughed terraces towards the farmhouse holiday accommodation of Casas Rurales Los Manantiales. What a great place to stay! But I wasnt staying – I now had a 7.5km up hill hike to the peak of Alto deGarajonay. Nearer the peak the path turned into a crazy paved path (more like road) to the top. Fortunately there's an alternative natural woodland walk running nearby. At the peak there's a terrace, today with no view. Thankfully there was a 15 second break in cloud for the view of the Table Mountain/plateau, Fortaleza.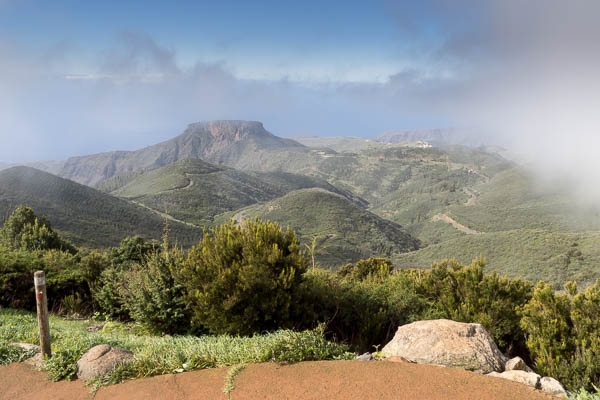 The descent towards Las Hayas took me through a really beautiful forest of the Garajonay National Park it's described as the best-surviving example of an ancient eco-system that once covered much of Europe and North Africa. I saw lots of black trees burnt by the 2012 fire (named El Gran Fuego) which devastated about a fifth of the Park. Thankfully new life is growing.
I couldn't find another footpath back other than roads so had to go back via the Barranco Del Agua valley which meant another steep descent/ascent. My total walk was 19.3km and according to AllTrails I burned 3473 calories so I deserved a nice break…and finished my picnic baguette.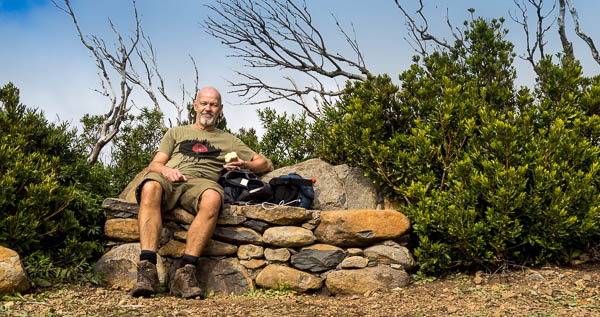 The evening was spent at one of the two Restaurants in Las Hayas, Amparo. I had Carne Frita de Cochino (fried pork) with Arroz (rice).
DAY 4: Las Hayas to Vallehermoso
I didnt bother with breakfast and packed a banana, orange, some nuts, crisps and water and set of walking from Las Hayas over to Vallehermoso, with my luggage on my back. I couldn't trust getting there by bus as there was no direct service and timing of two buses sent problematic.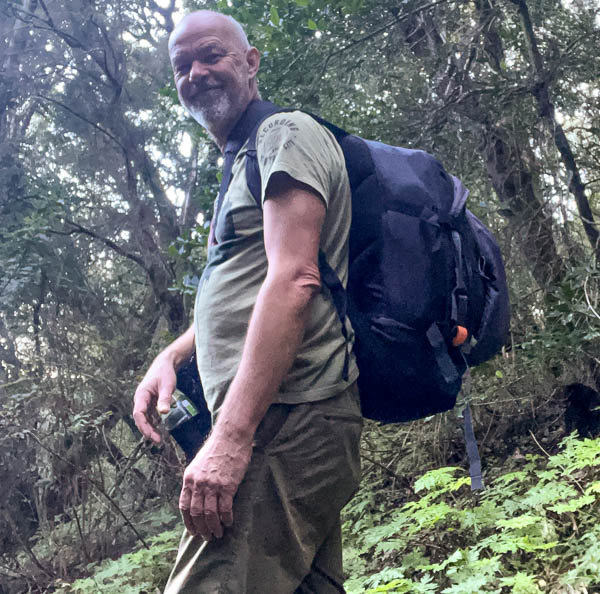 The first stage was walking through the National Park to Las Creces, this time I took a lower path through the forest which was narrower and much more interesting.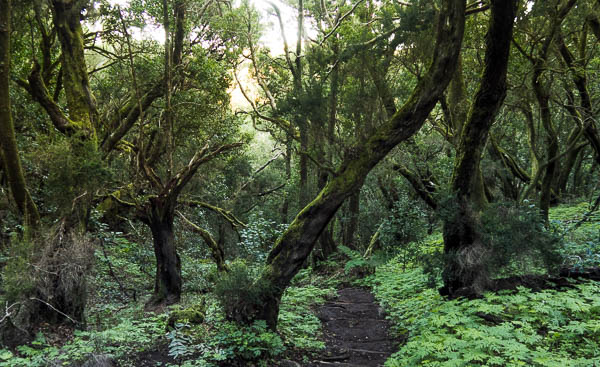 The sun was out so I took a worthy 0.6km detour at Las Creces to check out the viewpoint that I'd visited two days ago. All I could see was the fence, while today I had a clear view right over to Tenerife.
Very soon after crossing the GM-2 road we start to ascend into The Valley of Vallehermoso. It's a constant steep decline on a rocky path, but when the trees open the views are super. As the path gets closer to Vallehermoso its becomes more sand coloured and defined in the hillside.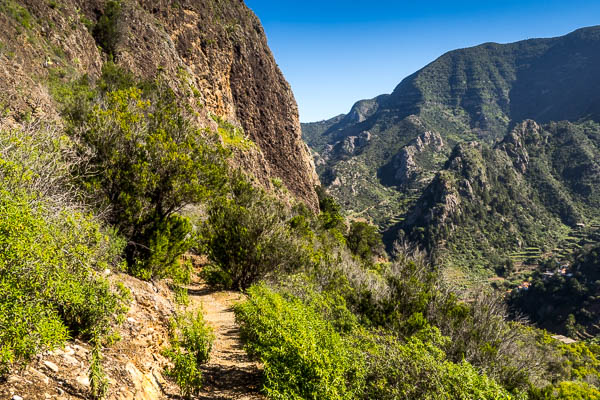 Its not long before you reach the Encantadora Dam – the largest capacity reservoir on the island with 750 million litres of water. From here I decided to take the GR131 up over the mountain rather than around the side. This gave me a good rear view of the Encantadora Dam as well as the Garajonay mountain range I'd hiked through , and the famous peak of Vallehermoso – Roque Cano.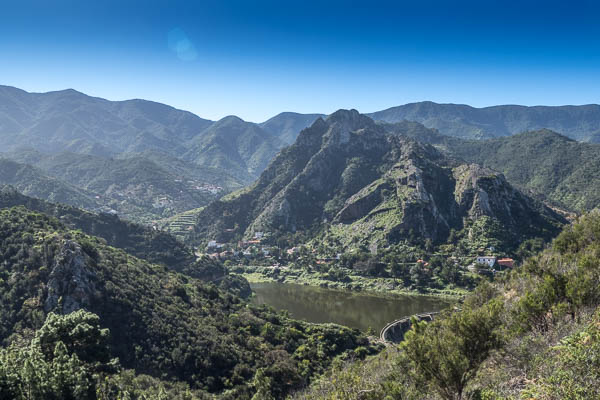 Another sharp descent brought me to my hotel for two nights Hotel Rural Triana and the end of a linear 11.5km walk. I dropped my bags off and headed for the beach. I hadn't realised it was another 4km walk! on top of what I'd done. Some good scenery on the way though.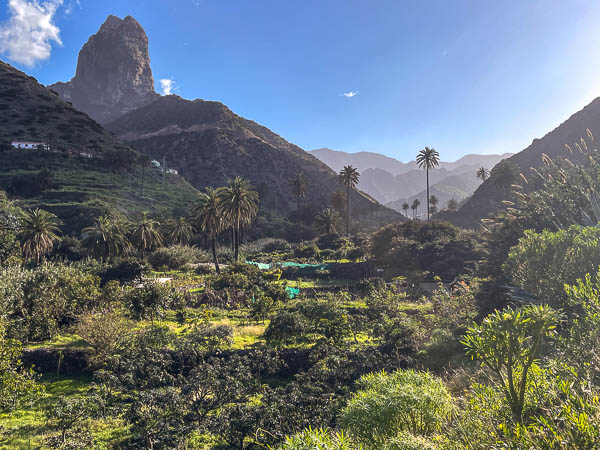 When I got to the beach it was very pebbly and also a very rough sea. I didn't fancy a swim. I did fancy some food and there was a shack-like cafe in the car park. There was, however, no signs anywhere stating what food or drink was on offer. I looked for a menu or a sheet with stuff to eat…nothing. I asked for a menu to be bluntly told "Its not a restaurant! We don't have a menu!" The woman, a 30 something short spiky haired, highly tattooed, angry looking thing proceeded to reel off items on offer in Spanish at a very fast rate. I hadn't a clue what she said so walked away hungry, with her response to shrug shoulders and swear under her breath! All I can say is she either hated men or tourists.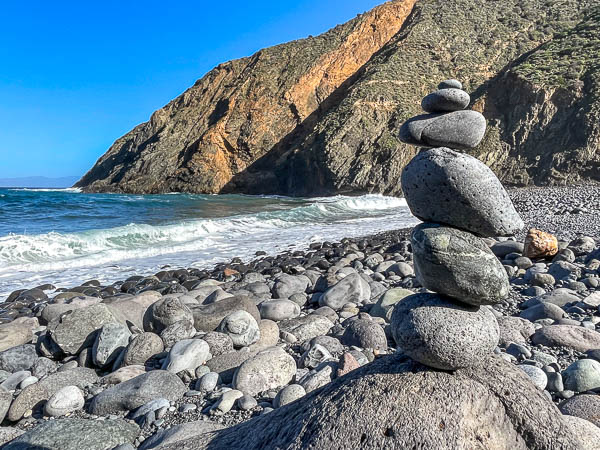 In the evening I visited Tasca Restaurant and had Chistorras sausages for starters, followed by Ropa vieja (Canarian chickpeas stew with meat) and Frangollo as a desert.
DAY 5: Vallehermoso to Santa Clara
I had planned on spending a day sunbathing on the terrace of the Rural Triana, but the sun was absent when I woke so I had breakfast (really good selection of meats fruit, cheese, breads and cakes) and planned a circular walk to Santa Clara.
Walking out of Vallehermoso passed the cemetery on the edge of the village brings you on to a steady climb into the hills following a path up the right side of the Barranco de la Era Nueva (Era Nueva ravine).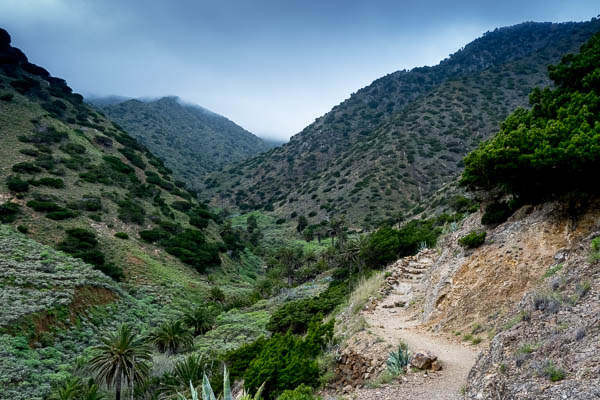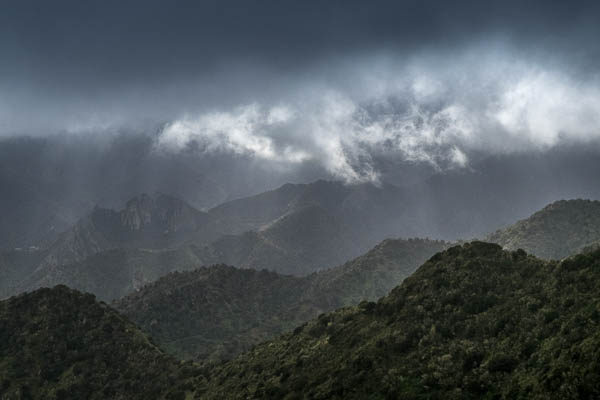 You walk through lush green vegetation and as you climb. The density thickens to dark moss covered trees before you break out onto a plateau with signposts to various destinations including a steep drop to the village of Arguamul and beach. I'd planned to visit this but when I saw the drop and thought of linear climb back up I decided to just view from afar. The plateau is also home to the Santa Clara Church and a bunch of hens, and two content looking cats.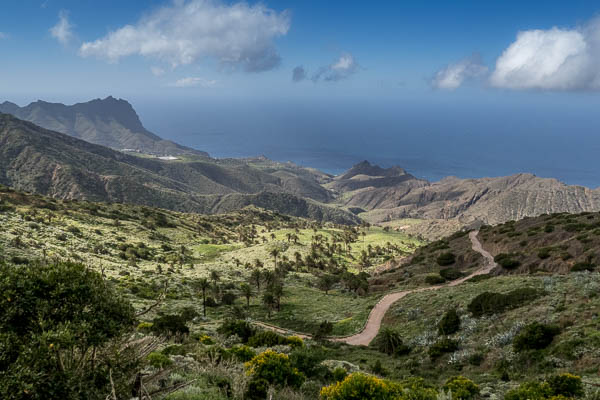 I walked on the GR132 – a decent sized mud track anti-clockwise around the coast towards Tazo and Epina before dropping back down the right hand side of Barranco del Clavo into Vallehermoso.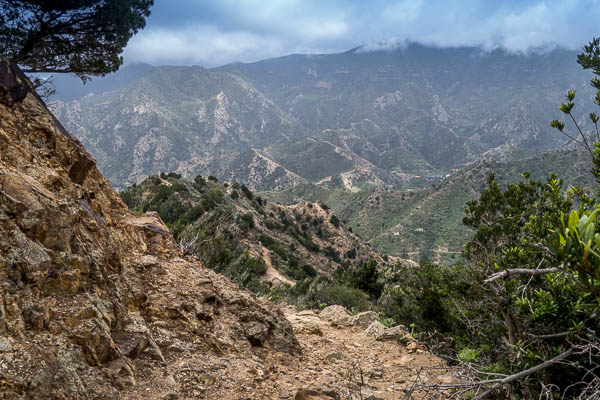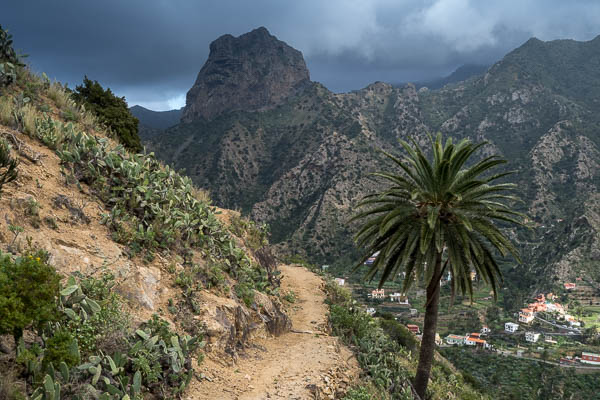 Back in Vallehermoso I sampled the local Arepa at El Kiosk – a bar next to my hotel. Tuna with onions delicious! And then after a walk around the village I headed for dinner at Restaurante Agana and tried their Chicken pieces in garlic dish.
DAY 6 Playa Santiago
Mostly a day of travel to get here from Vallehermoso. The buses are infrequent and I needed to get back to San Sebastian first on the Linea 2 and then the Linea 7 airport bus to drop me off at Playa Santiago. With waiting time I was about 5 hours travelling. On the journey I passed what I think may be the most stunning area of La Gomera and sadly one I didn't visit! Hemigua and Parque Natural Majona. Next time!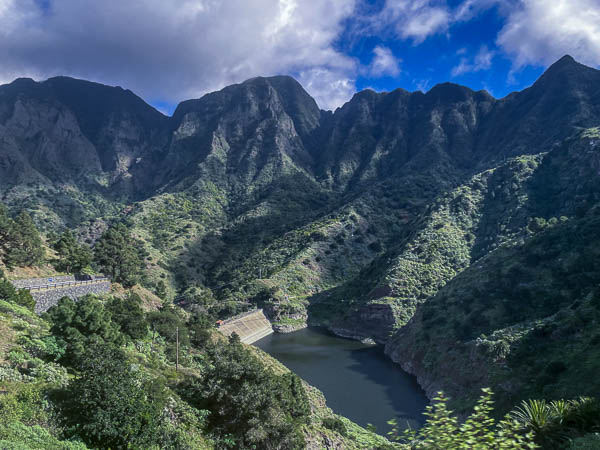 My apartment in Playa Santiago was Apartamentos Noda a block on the hillside 10mins to the east of the resort. As it was getting on in the day I decided on a visit to the beach and then a short walk towards La Gomera airport. You climb out of the Playa onto a cliff top path that takes you around to the Cemetery below the airport. It's an odd place with a few really good stone paths cutting through rubbled wasteland. The sun was setting so I got a few pics with the iPhone.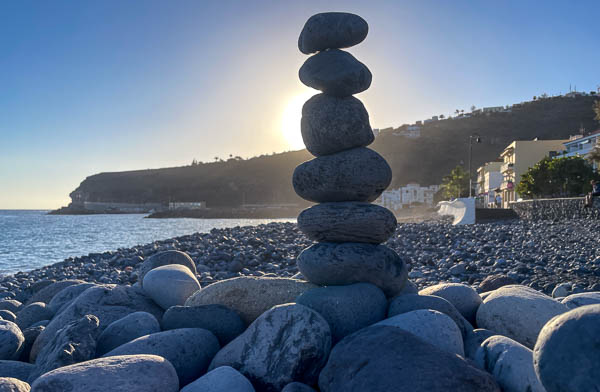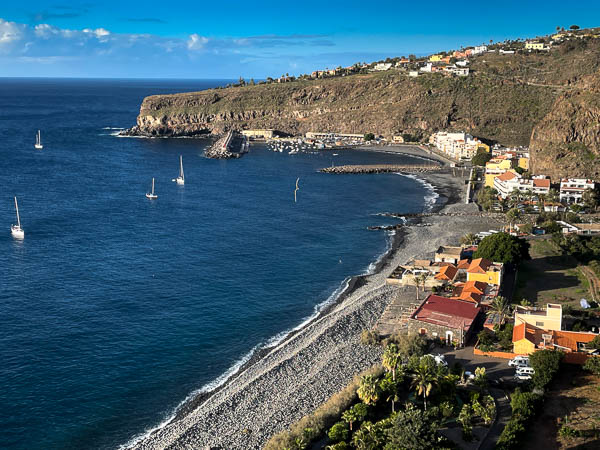 DAY 7 Playa Santiago – the three beaches
The sun was out so today was definitely a beach day. And on the map just east of Playa Santiago lies three beaches: Playa de Tapachuga, Playa del Medio (appropriately titled middle beach) and Playa De Chinguarime.

Each one is accessed from the coastal path from Playa Santiago by going steeply up and down the cliffs. The first two also have access by road. All three are typical large dark pebbled with little sand. So not the best for sunbathing.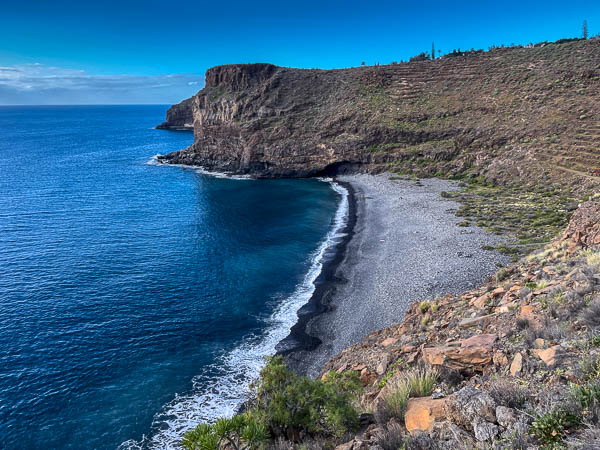 The third beach, Playa del Chinguarime, has lots of hippy type roughing it in the cliff side caves. They have built a small community and appear to be there for the duration. Its a very rough pebbly beach with an expansive of flat rough shrubby land behind where I also found tents and clearings scattered around with signs of accomodation.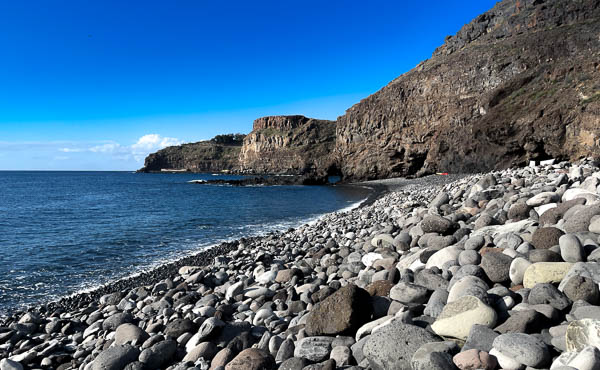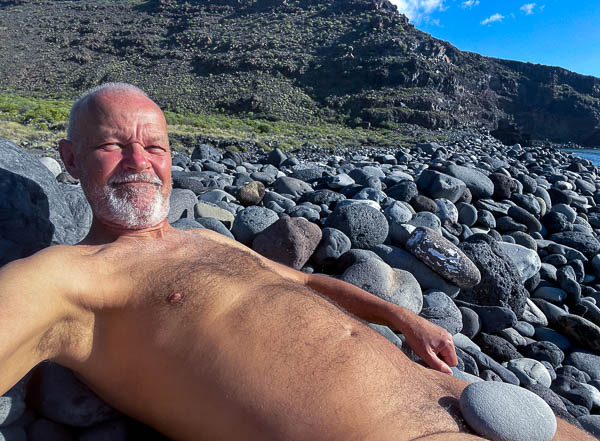 I went for a swim at Playa del Medio – the sea wasn't rough and it's not too cold even in January. After a few hours the inland clouds started to work over towards the coast so I packed up and headed back to be treated with a lovely rainbow from the cliff top walk.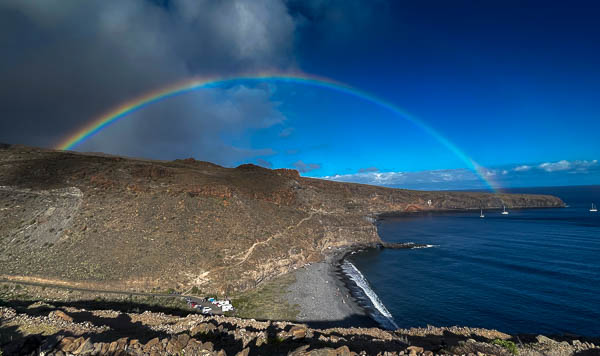 Dinner tonight was at Restaurante Apartmentos Playa overlooking the beach. I had local Potaje de Berros (watercress soup) followed by Conejo en Salmorejo (rabbit).
DAY 8: San Sebastian to Playa de Avalo and up through Barranco de Avalo
I caught the bus back to San Sebastian for my last day in La Gomera and dropped my bag off at Hotel La Colombina so I could walk around the coast to Playa de Avalo, On the way I saw a huge complex being built on the cliff tops with a beach to the left (Google maps pinpoint this as Hotel El Clavo – the hotel's web site estimates opening time Dec 2022). I decided to make a detour to check out Playa de Roque Bermejo – a small big pebbled beach with a permanent tent resident who has a sign which asks for respect. There's no road down with a rough path descent and although no good for bathing it's pictorially quite nice.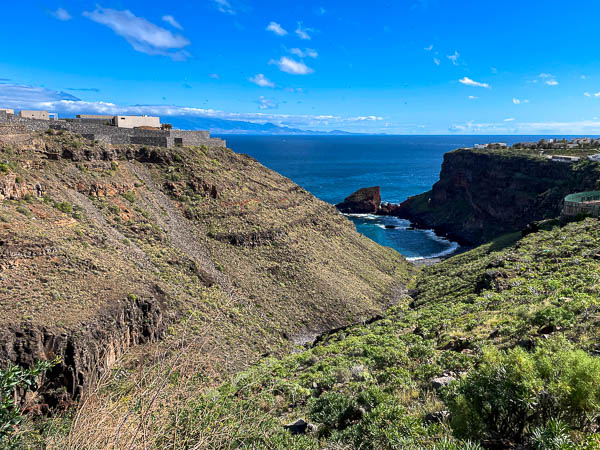 The main road takes you past the hotel building site and brings you to a most unusual area. A long stretch dropping down the side of the hill to an entrance to an equally long area going back to the sea at Playa de Avalo. This road is a continuation of the one had been walking on but is now lined with street lamps. All rusty and most with their lamp head strewn across the hillside. And paved with weeds poking through. Its like some long forgotten seaside resort, but with no real signs of a resort.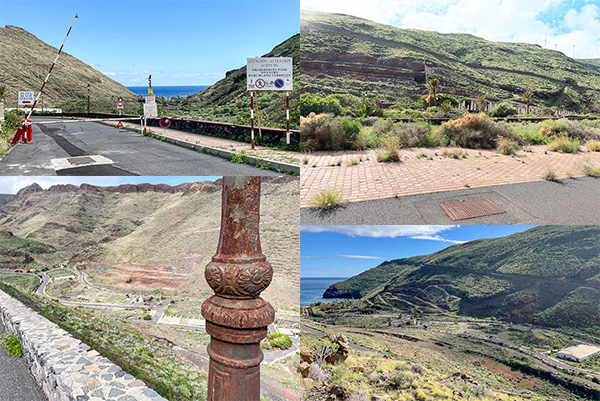 The area in the valley shows signs of life- a barrier and a no entry/dangerous dogs sign. And at the bottom near the beach it changes from derelict to lush, but I couldn't easily see any use for the area. When I researched later it turns out to be a luxury holiday stay Bahía de Ávalos with a clear dome so you can lay out and watch the stars. The property, 100m from the beach, is shielded by trees and shrubs from its neighbouring rusty lamps, weed filled paths and huge unkept planters. This is about as remote as you get, but with a beach that you'll have mostly to yourself on the doorstep and a mostly secluded garden area for a meditative retreat!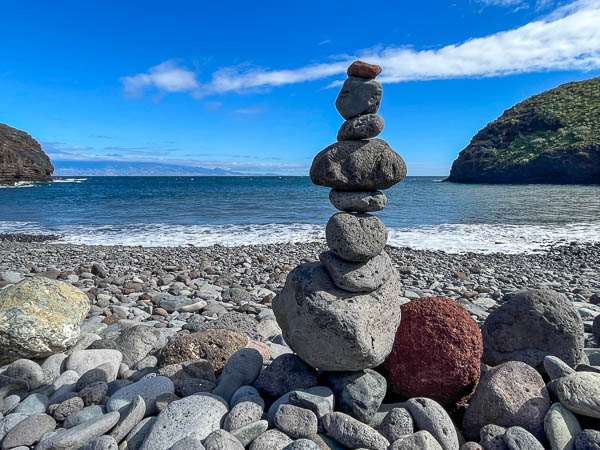 After spending some time at the beach I continued on the road marked pl.Sapu Turistico Avalo into the mountains to the right side of the Barranco de Avalo. This neglected road climbs up and reaches a derelict viewing platform, again showing signs of something once quite grande but now rundown.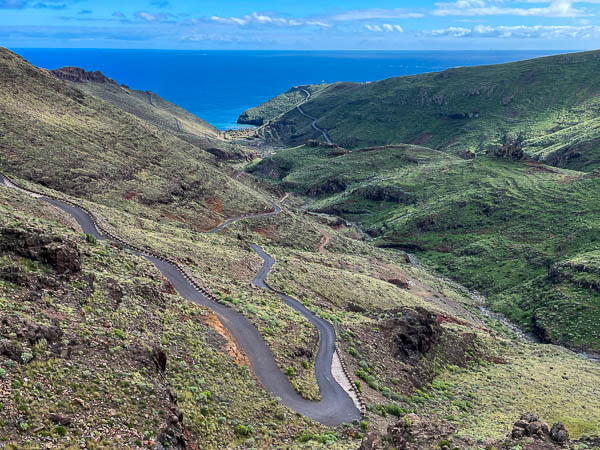 Eventually the road comes to a dead end at a small hamlet high up with terrific views. A path running behind the properties takes me into the barranca valley and up the other side.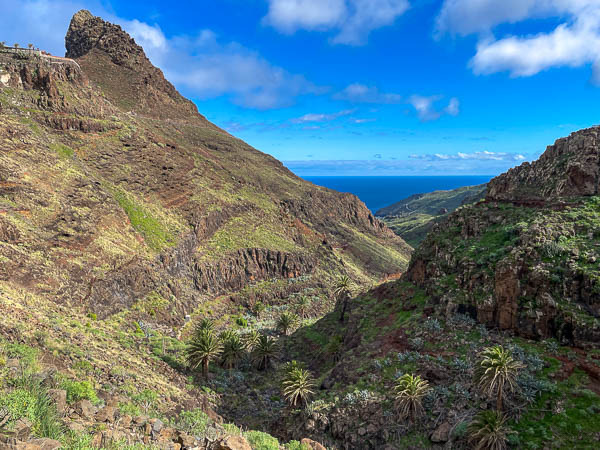 Then I joined the GR132 to take me back into San Sebastian, and on the way got caught in another rain cloud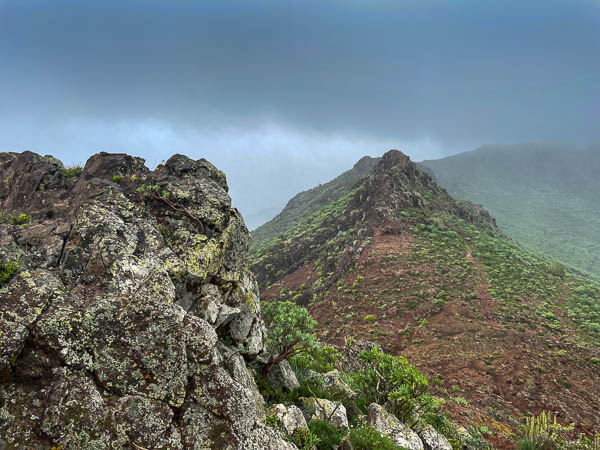 That evening I sampled the local starter Almogrote – a soft paste made from cheese peppers olive oil and garlic that is spread on bread. And then Paella.